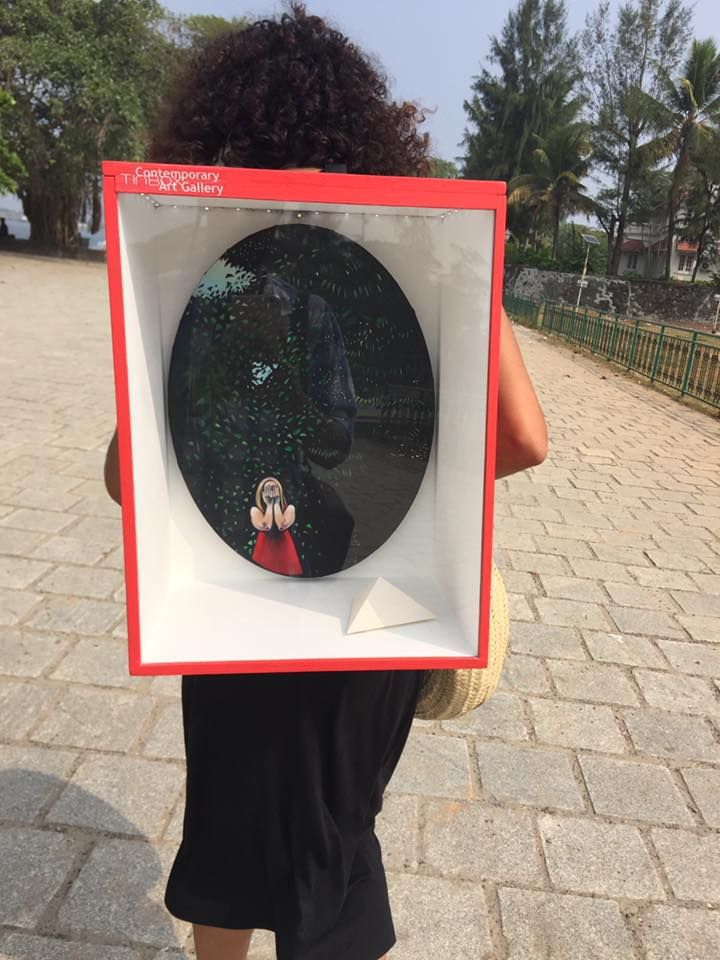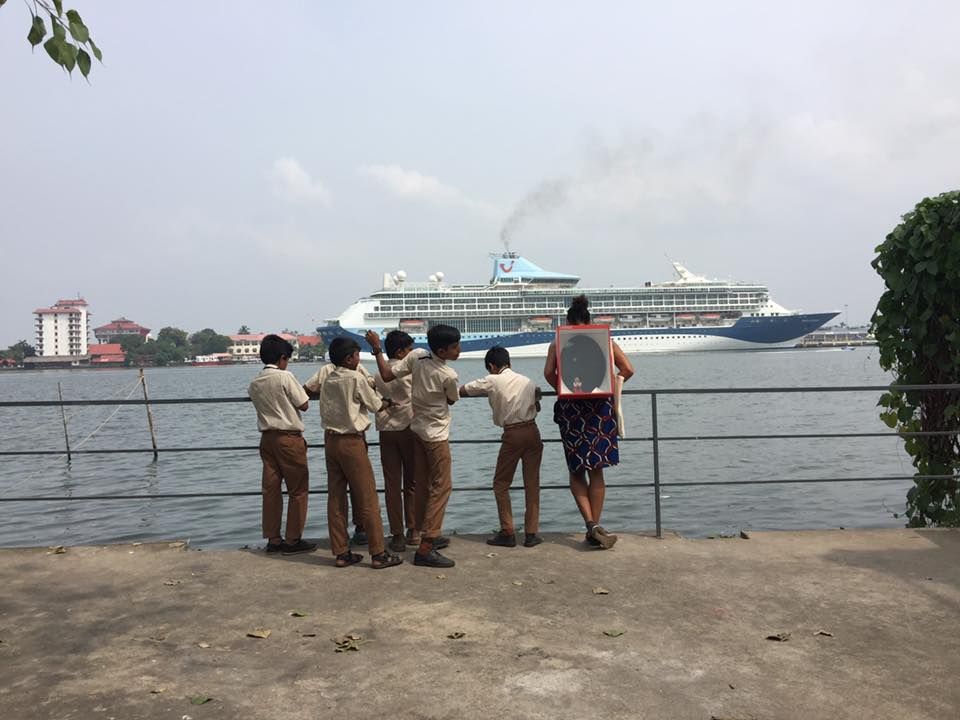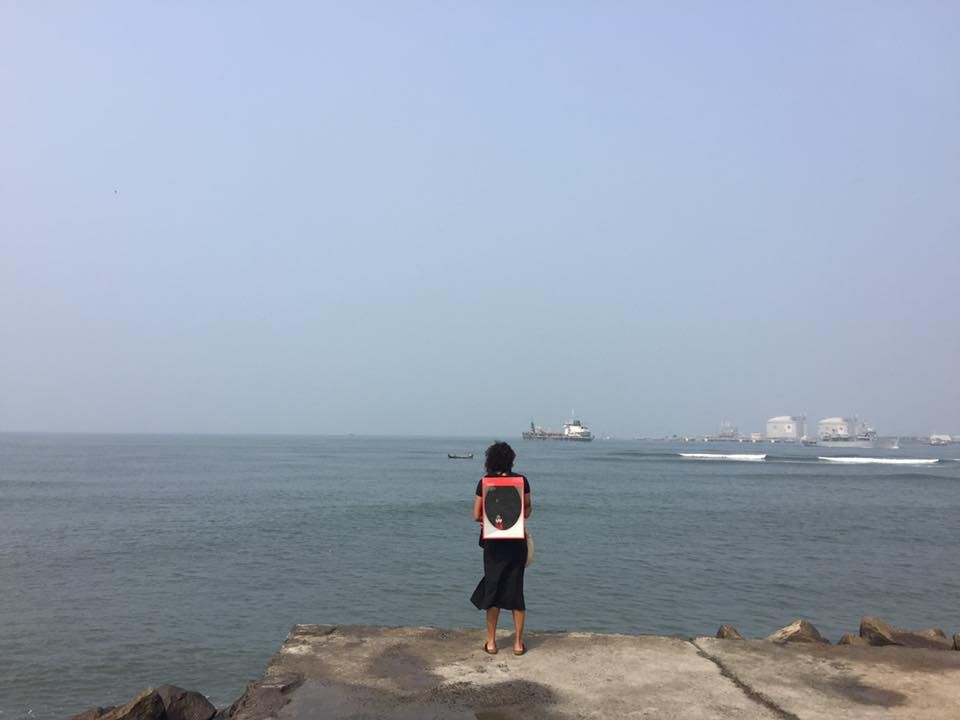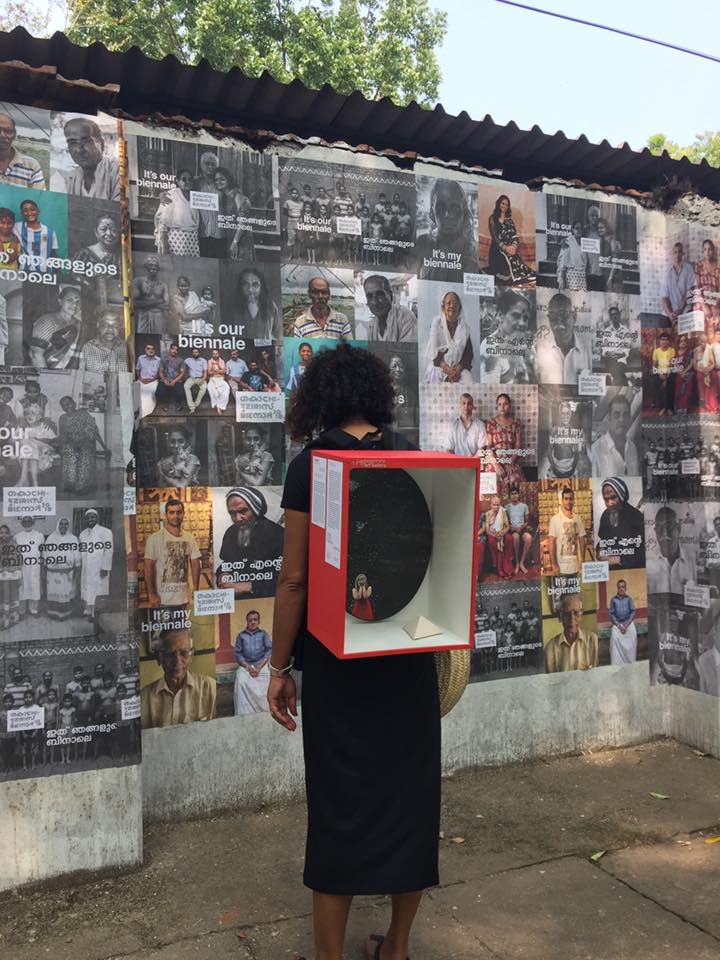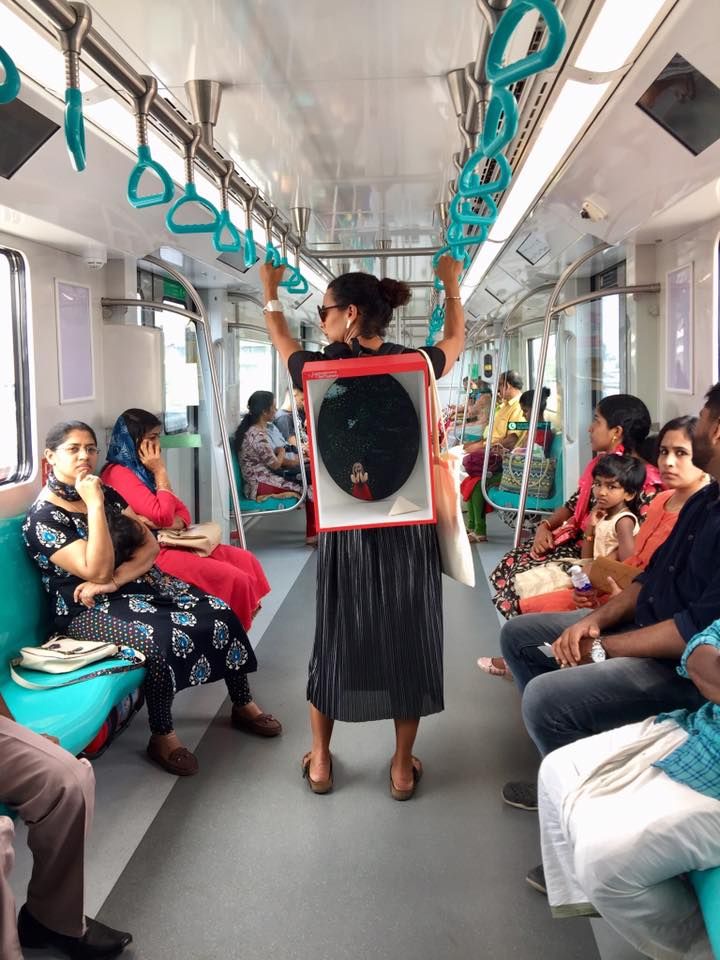 "WALKING IN PUBLIC SPACES WITH TINBOX#6 ON MY BACK IN INDIA"
Nadia Russell Kissoon
Performance de 7 jours
Biennale de Kochi-Muziris
Fort Kochi et campagne du Kerala en Inde
Du 11 au 17 décembre 2018
"J'ai décidé qu'il était temps que Tinbox développe sa mobilité à l'international. Et j'ai choisi l'Inde comme première destination avec pour objectif d'y développer des projets de résidences de création et de diffusion en 2019 et 2020 afin de représenter la scène artistique de Bordeaux et de Nouvelle-Aquitaine dans cette petite galerie-œuvre singulière qui se réinvente sans cesse.
Pour ce premier voyage, je pars avec une nouvelle Tinbox, là numéro 6 et une exposition de Margot Sokolowska. J'explore un autre mode de déplacement de la galerie à travers la marche. Je vais donc faire une performance et porter Tinbox sur mon dos dans les espaces publics pendant 7 jours durant la quatrième Biennale d'art contemporain de Kochi"
. Nadia Russell Kissoon
UBIQUITY
Margot Sokolowska
Peinture "Non, non"
in Tinbox Mobile Gallery #6 by Nadia Russell Kissoon
From the 12th to 18th of December 2018 Public spaces in Kochi, Kerala, India
Margot Sokolowska and Nadia Russell Kissoon seem to have the power of "Ubiquity". While Margot Sokolowska is having a solo show "Halte" in Tinbox Mobile Gallery #5 in public space in Bordeaux, France, her artwork is also visible in Kochi, India in Tinbox Mobile Gallery #6.
Painter, photographer, and performer, her research focuses on self-portrait. Her face is never visible in her oil paintings. The artist is either represented from behind, or with her face covered to become an universal feminine figure. She also represents her body using geometrical symbols through sculpture. The exhibition is presented in a new Tinbox Mobile Gallery created by Nadia Russell Kissoon in 2018. During her visit to Kochi for the Contem- porary Art Biennale, she is experimenting a performance in public spaces. She carries her Tinbox on her back, in the streets with Margot Sokolowska's exhibition. It is her first performance with Tinbox #6.
More informations about Margot Sokolowska
——————-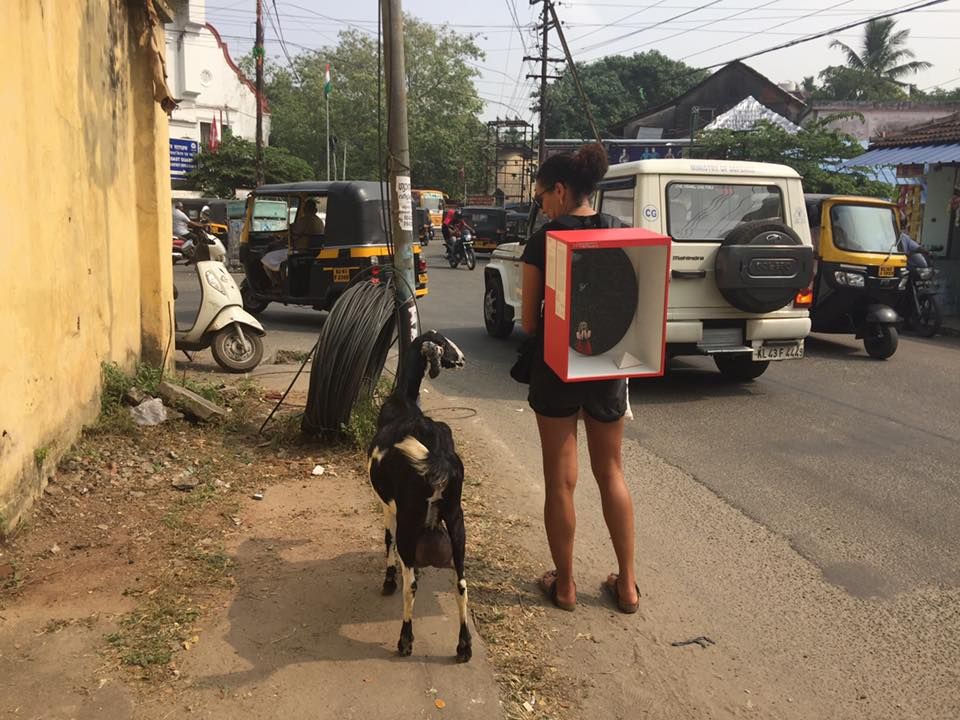 TINBOX MOBILE GALLERY
By Nadia Russell Kissoon
Since 2007, Nadia Russell's artwork has focused on the creation of structures that are in-between an architectural sculpture and a gallery called "Tinbox". Tinbox (tiny box) is a concept that questions the physical and ideological space of the contemporary art gallery. Each Tinbox takes the form of a miniature exhibition space made from different materials. Artists are invited and encouraged to invest Tinbox as an "architectonic" space, the concept then beco- mes the support for curatorial projects. It can be presented in the streets, in museums, in gal- leries, in schools, and more. She also employ it during performances by carrying it on her back or pushing it in the streets.
Tinbox is a mobile "topos" of contemporary art. This nomadic artwork-space with unconven- tional dimensions can be displayed anywhere and even at different places at the same time! Its ease of adaptation makes it a unique tool of diffusion on the artistic scene. Tinbox pre- sents itself as an "heterotopic" artwork dedi- cated to artists, curators and critics who wish to approach art in an experimental way. The unique scale of the space invites the public to encounter the exhibitions in an intimate set- ting. Tinbox is a nomadic constructivist artwork in permanent transformation.